---
Travel pages of J.P Nov 1998 - Jan 1999
USA (California) Fiji and New Zealand
---
Ok finally it was time... After a period of working for a few years I have saved some days up and it's time to take them so I thought lets do it well. Thinking on where to go it crossed my mind to visit at least my favorite place Perth in Australia. (Skipped this due to the longer stay in New Zealand) As I wanted to see a bit more I started looking what would be interesting. As I did never see the States yet this also crossed my mind. Also a nice Island sounded great to me and as I have been in Australia for a few months, about 10 years ago, I wanted also to see the Island next to it New Zealand. This all resulted in the next trip :
Flying to Boston (USA) on the 30 of Nov 1998. Stayed here two days and than traveled with an Amtrak sleeper train to Sacramento. In Sacramento I hired a car and done some touring of California for about 18 days. From here my trip brought me to Fiji to do some resting and relaxing for 4 days. Than it was on to Auckland where again I was traveling around by car. This was for about 4 weeks. From there it was back home again on the 25 of Jan 1999. From here it was back to work....
---
If I am online you could contact me here.
---
Here some links to 3 thumbnail pages and 2 dia shows where all pictures are collected. So for those people that just want to view some pictures just skip the text although in there you will find more background. If you select the camera on the right hand side of the days you will see some pictures of that day in small format. Once on that page you can select the smaller pictures to get a big screen filling one. This page will always stay on so you can switch during reading. The thumbnail lists are not sorted yet but that will be done later as building this was already quite a bit of work. Some of the pictures will be used in future on the postcard site so you can send them easely. But this could take a while as other things need to be done also.
---
Thumbnail links
-|-
-|-
---
Below you will be able to follow a bit of what I have done during this trip just to give you an idea on what it was like. If you have any questions feel free to contact me on jeepee@gids.nl also comments on the trip would be appreciated.
30 Nov
The flight from Amsterdam to Boston took 7 hours. I Left Amsterdam Schiphol at 13:50 and arrived at 15:30 in Boston. The landing brought some surprises as the plane needed to start of again due to some heavy traffic on the runway. We almost hit the runway when the plane made speed again and took of. The second landing was fine. From the airport to the hostel was a quick one the directions where very good and it was easy to find. The trip to the hostel was by metro. After checking in I went back downtown to do some sightseeing but as it was already dark there was not much sites to see so lets do that tomorrow. The city was nicely lit and all windows had Christmas lights and the center looked quite nice. The city makes a European impression and seems quite easy going. As I am some hours on the road I cracked in the hostel at about 20:30 (hm my time was 01:30 need to get my clock set to the US time. (seems they are 5 hours behind)
1 Dec
Again some city site seeing. Now in a wider circle. Boston has still many old buildings but they are all surrounded by many big skyscrapers. Due to this a lot needs to be discovered while walking in the city. Luckily the city helps you as they made an old trail available. This trail is marked on the street walk with red stones and is clear to follow. I followed this trail a bit but not as they intended. I did some parts in another order. Boston has it's own web site at http://www.boston.com what is even nicer to see is the John Hancock Observatory. This is the largest building in town with a nice view on the top floor (stayed of course). More info can be found at http://www.cityviewboston.com the view from here is really great. I spend a lot of time here and also intersting is the corner where you can view the Airport and hear the communication between the tower and the pilots. From here I found some other places I wanted to check out. All around the building there were sign to point out the most interesting places and historic places in Boston. The science museum that I will try to visit tomorrow and Cheers (in real the Bull and Finch bar) that I visited after the city view. As it was getting pretty cold I got my sweater and did some groceries. This night I will see what to do.
2 Dec
Yesterday night was very windy so did not do much. Today I was scheduled for the trains so checked the train station out. It was a nice looking (end station) The morning I spend in downtown Boston in the central park. The weather was nice and I just did not du much. I visited Cheers although I did not go in as I did not want destroy the idea I had in my mind. I wanted to make a picture but there where always trucks in front so I skipped that. Yesterday I bought some post cards of Boston including some of Cheers. By the way Cheers can be found on the net on http://www.cheersboston.com which I will need to check out. After eating in a nice food marked, where I went for lunch yesterday also, (with life music) I picked up my stuff from the hostel. When I came there I found we where chased out due to a fire alarm. Nice to see those old Boston fire trucks coming out. After that it was on to the trains. Here I bought some stuff to get me settled in. Amtrak provides nice cars with enough space. Although they where fully booked and it seems we needed to share the double seats lucky for me after Chicago I will have a bedroom. Just outside of Boston we stopped why we still do not know. It seems there where some problems. Ok a kid got onto the train there goes our peace.... It seemed that the airconditioner had broken down.

It's 17:38 I am signing off maybe later... PS power in the trains is cool.....

Met a weird South African guy on the train. He has been doing Amtrak for 2 months !! Amazing now I know how it works on the trains. I am glad I am only on the train for three days. Although it's nice as you speak to more people and you see all kind of things happening like people leaving and boarding the train. Also met an older man that wanted to drive to the other side of the country but his car broke down. Very friendly man with some amazing stories. The employees are funny guys that have traveled a lot as it seems. It seems the trains are stopping quite often as cargo trains are more important and always have to go first. But they are able to keep a tight schedule.
3 Dec
Today was another train day. Like yesterday but now also in the first class sleeping cars. This is good as yesterday I did not get much sleep. Now I have a bed and a tendant that serves what ever you want way cool. The first train trip ended in Chicago where I did a small bit of sight seeing. It looks like Chicago is nicer than I thought maybe I should come back here some day to some more looking around. Some people advised me this. From Chicago it's on to Sacramento. To Chicago is already one time zone. The new train called California Zephyr is a nice one with showers (which I will try tonight) and a lounch car. Also a scenic car with nice big windows to do some great site seeing which is nice as tomorrow we will cross the Rocky Mountains. I hope the weather will be nice so we will have some great views. Ok in 30 minutes I will have my dinner served in the dining car so I wonder what they will feed me. I will also get lunch and breakfast all is included in the sleep arrangement. It was a good choice to do this part with sleeping facilities. Already looked a bit to the hostels in California to see what I can plan there. Ok it's about 19:00 feeding time.....signing off.....

After having dinner with some Americans I knew they have a different way of thinking than Europeans or I just met some none average people. Dinner conversation was from back to left to forward to right. Nice people though. I heard they are showing a movie tonight lets see at 21:00 if it's ok. Dinner was excellent by the way.


4 Dec
This part of the trip was the best one I ever made never have I seen so much beautiful sites in one ride. If some one would want to see the Rockies this, I guess, is the best way to do it. The ride in the scenic car is really the best today I spend quite some hours in here. Yesterday night tried the shower that's something else in a bumping train ! Sleeping went quite ok due to the time zones it was a bit longer. I slept pretty well concerning the fact that this was my first time in a train that bumps this much. It was a ride through the corn fields of the US, Illinois and Indiana,. After that we arrived in Denver where the mountains started it was a great site and the train climbed slowly up the mountains. This took a while and I had some options to make good pictures now lets hope they are all ok. At the top of the mountains there was a skiing resort but due to the great weather (way to warm for the states) there was not much snow. It seems that tonight the first clouds will come and bring some snow. People are getting desperate about that as the tourists are staying away. During this part of the trip we passed the longest tunnel in the mountains, it was a trip of about 10 minutes through the tunnel. It seems this is the longest tunnel in the States. The city of Grandby was a great part of the track. The way down of the mountains also brought some surprises as we went down close to the river this river (I think it's the Red River) ends in the Colorado River. Great scenery. Some people I met suggested me to go up north from San Francisco as it seems this part of the coast line was the best so I might take them up on that one when I will get there. I should arrive in Sacramento at 15:20 local time. It's now 16:30 and it's still light so that's good as we can see more. Dinner again at 19:00 and the breakfast and lunch where perfect. After dinner we drove next to highway with lots of trucks and guess what station was to be found on the radio.... country and western. Ok this is the US of A.

5 Dec
Yesterday night I watched a movie on the train that was not much so just chatted with some people. This night we drove through a very great area with lots of snow covered mountains. I woke up a few times just looking over the area. Luckily the sky was clear with a full moon that made it even better to see. When I woke up all around me was white very nice site. During breakfast it changed slowly to a non snowy environment. We still traveled through the mountains and people where telling how nice it will be when we arrive in Sacramento as the hills are quite nice in that area. It seems we have had a delay but we will make up for it during the day. Today is the last day on the train and it was a great trip. We traveled through Illinois, Indiana, Nebraska, Colorado, Utah, Nevada and California. A big track with lots to see. It's a pity that we missed some sites due to nightfall that is around 17:00 at this part of the track.

At 15:30 I arrived in Sacramento and with some sadness I had to quit this part of my trip. Dave and Angela picked me up from the station. This was the first time we met eye to eye and also I met his wife Angela. After I picked up my car we drove to Dave's house. They own a nice house in the suburbs of Sacramento. This was the first night since a week that I slept in a very quiet environment. I hade a nice room for myself. Today the weather was not that good. It was raining for a short while and it was not real warm. But it was a nice place to stay.
6 Dec
Indeed sleeping was good here. Nice and quiet and above all there was no rail rhythm anymore, not that that was an issue but it's more back to normal. Today the weather seems much better. It's not that warm but sunny again. Today I am seeing what to do next week. I am also trying to get mails out on the mobilepro but it seems not to be working that good. Yep that seemed to work ok now I am using a prodigy account. Just saw on the news that the temperatures will drop to 0 degrees Celsius. As I am going to a hilly place I hope the roads will not be snowed under. Today did not much just prepared a bit and drove into town and Dave showed me some places in Sacramento. Tomorrow morning I will move out to the southern part along some parks if all goes well.
7 Dec
Today I started driving through California. From Sacramento I went down the Interstate (I-50) to the 49. The 49 is a 2 lane road that goes almost into Yosemite Park. My first overnight is in Sonora where I stayed in the Columbia College. It's a great place in the middle of nowhere. As it's winter time and we are quite high up they are expecting some snow so maybe I will stay here a bit longer (2 days). I also have to do some laundry so that would be a good thing to do here. The drive down here was a great one it was all through the mountains. Some sights where really awesome. Until about 17:00 the weather was quite good but they expect rain or snow tonight. The hostel here is great I have my own bedroom and there is a guy from Switzerland in the other room. He has been traveling around California also. It seems the hostels on the coast are great so I am sure to pick some of them also. I have to figure out what to do now as quite a lot of roads are already closed. I wanted to go to Independence (on the other side of the Yosemite Park) but again al roads to there are closed the only way to get there is via lake Tahoe. So that's a bit too far. I think I will drive up to San Luis Obispo at the coast and from there drive up north again to Point Reyes. The guy from Switzerland came here to get stuff for his car he bought here in the US. Now he needed tires. Nice to make a holiday out getting tires.
8 Dec
Today made a second night reservation in Sonora and drove of to Yosemite Park. The drive was not via freeways but just a touristic tour along the I-49, I-120, I-41 and back over I-41, I-99, I-59 and I-108 the idea was to visit two parks but Yosemite Park was so great so I spend some hours (about 4) there. The park was snowy and the weather cleared up. When I drove of it was fogy and rainy but soon the sky cleaned up. Driving to the park is an experience if you do the scenic tour. A lot of climbing is involved and the car had to work hard. But once in the park I walked quite a bit. I also had to buy some snow chains as in the park they were required due to some icy roads there. It's a bit of a rip of by the way. But when arriving in the park all was forgotten quickly. It was really worth while driving up here. It all looked like a big christmas card with snowy landscapes and great looking water falls. I made some pictures and luckily they had some shops there as the battery of the camera worn down. So I missed a few sites but on my way out of the park took shots from different angles. It was very quiet as not much people seemed to visit the park in winter time I have no idea why as it looked great to me. Due to the fact that is was winter some sections where closed in the park so maybe I will have to go back some day to visit those sites. Tomorrow I will try to visit the Sequoia National park and from there go to San Luis Obispo there I will stay in a hostel (have to call for reservation) from there I think my trip will bring me up north over I-1 (the coast line between LA and SF) This will be the last night at Sonora it is a quiet nice little town but it looked ok.
9 Dec
Drove of to Sequoia Park. Taking the freeway I-99 and headed into the mountains in Freno on the I-180. The weather today was dark and the sun did not get through but as soon as I rode into the mountains there he was again. The higher I came the better it was. Almost all roads where open for traffic and I was able to drive throughout almost the whole park. Here no chains where required as I was driving with snow tires that was ok. First I drove into King Canyon and after that I went to Sequoia park both parks where at a higher altitude so again a lot of climbing was involved. In Kings park there was a nice lake with some great views. But Sequoia park was even better. There where many big trees and as you drive in the park and the trees are getting bigger and bigger you hardly notice it until you see some new forests with 'normal' trees. The Sherman group are the biggest and oldest in the park. After a very steep way down and a road block on the way back on the I-189 I drove of to San Luis Obispo taking the I-189 I-41 I-46 and the I-101. The way down was a great one with many hear pin curves. Luckily the road was not that much iced and it went quite smooth. The hostel in San Luis Obispo looked very nice and I decided to stay two nights here before I will go up the coast. It seems there will be a nice marked tomorrow evening and I wane do some driving around this area. The owner of the hostel was a friendly chap he told me a bit about the history and what to do in the area. In the evening I walked a bit through the town and it seems it is indeed a real college town as many young people where out on the streets. Some still thinking it was warm (it was really cold) with their shorts and T shirts. Again many trucks again on the road. It seems the US has a lot of them.
10 Dec
Houston we have a problem as in my mobile pro did not start at first na what the heck. This morning I met an Australian girl from Sydney that knew an internet cafe so we went there together. Also met a Dutch guy from Rotterdam by the way. She was right it was a cool place to do some email and some surfing in the area. http://www.visitslo.com was an interesting site to show that internet access during a trip is very useful. Today I drove to Hearst Castle as in the big paper and media man in the US. It was a great drive up there on the I-1 this is the road I will be taking tomorrow when driving up to San Francisco again. After about 45 minutes drive from the hostel I was there. The tour you have to take is about 1.5 hours and it was a great tour. We only saw a part of the house and there a 4 other tours to take in the future. (These will show every time a new part of the building) From the Castle drove down south to visit some parks on the way back. Beautiful scenery and again the weather was quite nice. Drove down south to watch the sunset over the ocean which by the way was from the utmost east part (Boston) to the west part. I walked along both oceans in one trip. Tonight I am going to visit the 'famous' farmers market in town. It was a nice market with many stands and much food from all the farmers in the area. Fruit and all kinds of food combinations. There where also quite a few musicians on the street one of them called Ned Landin who played a nifty piece guitar so I just bought me a CD from him. He also runs a web site on http://www.flatworld.net he was quite popular as many people watch and listen to him in the cold as it was freezing at night. Funny how again people where still wearing shorts and girls in tops ?! But anyway tomorrow it's up back north again over the I-1 maybe I do first a part down south. Depends on how early I will be up and driving.
11 Dec
Ok as it came I drove down south to Santa Barbara as I heard some good stories about it. I arrived there at around 12:00 and found a hostel. I bought a new book in San Luis Obispo with more hostels in the states (also non HI ones) This hostel was called the Banana Hostel. Looked funny so I booked a night here. Santa Barbara was really a great place. Nice lanes with palm trees and it was right on the beach. All palm trees and very expensive houses. The city it self had no real center but 3 a 4 streets where more or less the main center. The drive up to Santa Barbara was great I took the I-1 down south all the way which brings you to Vanderberg Airforce base and the NASA shuttle center. The more I came down south the more palm trees where to be found. After quite a walk through the town I drove along the hill to get some nice viewing spots. In the evening I drove to Santa Monica as LA was not a target for me I just wanted to see the night view. Along the coast to LA many oil islands could been seen. Never knew they had so many here on this side. Back in Santa Barbara I sat down on a terrace with some New Orleans style live music (the name of the restaurant was ... New Orleans)
12 Dec
Thought about driving to San Diego but skipped it wanted to drive up north to San Francisco. Na close to it as I wanted to visit the hostel in the light house. So that's my target. First I had my breakfast on the beach of Santa Barbara. It was quite nice and many people where already on the beach. I drove to to San Luis Obispo over the I-101 and from there back on the I-1. Maybe I will visit Hearst Castle again and do tour 2. Hm it was too late to do another tour so I went up driving up the coast. The sun came out again and it became another sunny day. I arrived late in the afternoon and I was not sure of a place in the hostel. But as it seems there was enough space there. The drive up the I-1was a good one nice sites along the route and I stopped quite a few times. Almost half way down the route the road was getting a bit less interesting as there where no big mountains anymore. Today I drove a long way and I was pretty tired after the drive. The hostel here is indeed a great one. This a lighthouse on the hill and the hostel is small only 20 beds in small dorms. There is even a hot tub to use for people. I am not sure why they have this hot tub.
13 Dec
Hm it seems they are expecting rain. When I woke up it was very cloudy and it seems that indeed rain will come soon. So I had to think of what to do. Drive up to point Reyes or see San Francisco. As it seemed to clear up I decided to drive up to the north by the I-1 there where some scenic drives so I took those. At the bridge I stopped and visited the outlook post for the bridge. Walked a bit in the park and walked over the bridge. As the weather was not that good just bought a couple of postcards with good pictures. After the bridge visit I drove further up north. It seemed that during the war they had also some big guns on the beaches and hills and there where some outlook posts from the army at either side of the San Francisco bay. The guns where from a very long range type (like navarone). The view at those sites where amazing and I visited a few places along the coast. I hope the pictures will work out as it was quite cloudy. At around 14:00 I went into a shop to buy some groceries and when I came out it was raining like hell.... Hm not good so I stopped driving up north and went back to San Francisco but it was raining so hard that the view was only about 50 meters. One great thing is that I do not have to wash the car as it was still quite messy after my drives through Yosemite and Sequoia park. Ok as it was already 15:00 hours I thought about driving back to the hostel where I stayed last night and do some writing as I did not do that for a few days. The moment I arrived at the hostel at 16:30 the rain stopped and the sun came through which was nice but a bit too late. Lets see what to do here they have a nice sitting room with a wood fire so as I met some nice people last night I assumed to meet people again. And if not update the reports I am making. There where still some people that where already here last night.
14 Dec
The weather was great so I decided to go up to fort Bragg and from there drive back to Sacramento where I will meet with Dave and Angela again. As I have been reading more about San Francisco I recognized more on my way up. The sun was shining so the bridge looked different than in the fog. I visited the both scenic places and took some pictures. On my way up I also found the gun places that I have been reading about. The coast line here was great again. It seems more than 75 % of the I-1 is really great. On my way up I came also in the Point Reyes area which has some good nature and big woods. Also I came through Napa valley which is the wine area here in this district. In Fort Bragg there is a museum about the wood limbering in the area. The village was older but not that you say great. There is an old train running here but not when I was there. My drive back was over the I-1 I-20 I-16 I-5 and the I-50 back to Dave's place.
15 Dec
Today we went into San Francisco the town it self. First we visited Pier 39 which is the tourist place and where some seals where playing around in the harbor. We had some lunch in the Bubba Gump restaurant that has a lot of shrimps and other seafood. It was really a fun place where the waitress comes to your table to do some trivia about the movie with you if you want. They had some good food there. Again the weather was great so we decided to do tour to Alcatraz. We went out on a boot to the Island and from there a tour was done with you own tape recorder. I made some pictures there also from the town as from the water it was a nice site. I hope the roll came right out the camera as the indicator tells me it's already developed (hm not in this one) so lets hope and see. After the tour we drove down of Lombard street which is a famous one that goes really steep down. As it was getting dark we drove home after that and I think I will go to the hostel here one night to see the sights more. As we lost our way we did a nice sightseeing tour of the town and by night from up the hills it was a nice spectacle with all the lights for xmas. Also it seems you can park your car then in the city at the hostel. Maybe after that I will drive down the coast again to spend my last days there.
16 Dec
Today it's laundry day again. And I will try to fix Dave's washing machine. Maybe I will visit Sacramento downtown also today. Ok washing machine fixed so they can wash again also did my laundry here. As the weather was not that warm need to dry it of in a laundry somewhere. After that we went into town and I met Greg Dave's brother we went downtown Sacramento. In the afternoon visited the Packard Bell plant in Sacramento and that was quite a big plant. The production was huge but not fully manned. It seems we are not selling that many machines here in the States at the time. Tomorrow I will go down back to San Francisco and spend 2 days there and maybe drive down the coast a bit again until I leave. Maybe drive up to lake Tahoe also. Today the USA decided to bomb Baghdad and there was a lot on the TV about that. It seems in San Francisco there where some protests so lets see what to expect. It seems the hostel in Fort Mason is fully booked this weekend so it will be only Thursday night that I will stay. Funny they are also fully booked on the 31 of December. Must be good to spend the new year in San Francisco.
17 Dec
Today drove back to San Francisco and got me a room (dorm) in Fort Mason this is a big hostel. Luckily I was able to get a room with only 4 beds so it's a bit quieter I hope. I made reservations for two nights so maybe I will stay here a bit longer. I also drove to the Sacramento airport to check it out so I know where I have to be Wednesday. As the US bombed Baghdad all security is sharpened and I need to be two hours in advance on the airport as they are really checking all luggage now. After I came into San Francisco I had some problems finding the place. But finally found it and I could park my car on the compound here. This saves me parking fees in town as the hostel is very close to the center it's nice. I walked into town but found out that there is a lot of climbing involved in this town. Tomorrow I will get me a pass so I can use the cable cars so I can freely move across the town. There are some things I wane see as the zoo and the science museum. Also it might be cool to go into the observatory. In the hostel met a guy that has been traveling around quite a bit and he had some nice stories. He bought himself a car and a snowboard and he will go snowboarding a few weeks in this area (lake Tahoe) I will go up there also on Saturday or Sunday to check it out. When I will go there I will stay in the Sacramento hostel that seems to be a great place.
18 Dec
The day started with a breakfast in the hostel as I received vouchers for it so I tried it out. It was not too bad. It was the first hostel where they actually had breakfast. The sun was shining again so went into town and bought me a pass for the cable car. Those are quite nice and you can travel four routes. You can also use the pass for the busses but I did not try that out. I went to China town and to the financial area. Of coarse also went down to Lombard street as this is probably the most visited street in the States. Also visited the San Francisco port but than the weather changed quickly and it became very cold. Hm did not expect that. So museum time. Went to the Cable car museum and saw the system working on how the trams are towed. Simple but efficient system. After that went to the maritime museum that had some ship's information and some background of the bay of San Francisco. After that I went back to the hostel to get me something warmer to wear. Tonight if it's not too cold I will see me the city with the cable cars again and see how it looks with all the Christmas lights. Need to write some cards also so bought a few and now I need to sit down and start writing (hm with a pen...) lets see if the snail mail from the US still works. I did not visit the zoo or the science museum I might do that tomorrow. But that depends on the weather again.
19 Dec
Good the day started to get of sunny. So I made use of it as I went straight to the Coit tower that has an observatory for visitors. The tower is not that high but with the fact it's build on top of a hill makes it quite interesting. Today I drove around the town as I was now used to the streets and I knew my way around town. It was nice as I took Lombard street to drive through. It was very steep. But I got used to those streets quickly. It's nice to drive in San Francisco and why people complain about it I do not know. After a few pictures and a while walking around the hill I went to the Golden Gate park where the science museum is based. It was a great museum with all kind of exhibitions which where quite nice. There was a lot of stuff to play with. After the museum I drove a bit around the park and went to the coast line as the park ends at the ocean. From there drove down south via the I-1 to Santa Cruz. From here via the I-17 I-880 I-680 and the I-80 to Sacramento as I wanted to visit the nice old hostel here. When I arrived I was amazed how great the hostel looks. It's an old mansion that has been moved in total from one side of the street to the other. The hostel keeper lady explained me and showed me the pictures of this move. The rooms are like old 18 century rooms with nice ceilings etc. They have some very amazing rooms in this house so did some sight seeing after I changed my car as the braking light kept on burning. As I wanted to go to lake Tahoe tomorrow I wanted my breaks to be working ok. I think I will stay longer here and maybe all three nights it depends on how easy it's to get to Independence. I will see that tomorrow. I must write the card as I already got the stamps I should do that before I leave. Maybe tomorrow night would be good for that as there is enough space and privacy to write from here without being disturbed by others..
20 Dec
Today I drove up to lake Tahoe. It was sunny when I drove up but I landed in some snow storms. So there where the snow chains again. I drove to Reno via the I-80 and from there to the I-28 al the way along lake Tahoe. Tahoe village was a nice small town with great houses along the lake. It was very quiet and I guess everyone stayed inside due to the snow. Along the way I found the famous Bonanza farm where all series were recorded. I liked driving up there after every mountain it could be sunny and indeed it was. At the around 16:00 it became sunny at the south part of the lake. It was very nice as at one end it was really foggy and at the other end the sun shined. The mountains looked great in the sun shine and the roads where really white. It looked almost a bit like Yosemite Park last week. When I drove home via the I-50 I removed my chains but that was a bit to soon as we had to put them on again as the road out was snowed under. But when I removed my chains earlier one of the chains broke so I had a small problem but luckily a guy stopped and he had a removable chain that I could get from him so I was helped again. After I was back in the hostel I saw my car looked like a mess. If it would rain it would save me washing it. Tonight I will stay in the Sacramento hostel again and maybe I will stay here. Tomorrow I will do some sight seeing in town if the weather does not let me down. If it's too cold I will visit the Amtrak museum here in town.
21 Dec
I walked into downtown Sacramento today but there was not much to do as all shops opened at 10:00. I wanted to check the library to check my mail but it did not open at 10:00 and it was too cold to walk around so I decided to drive up to lake Folsum via the touristic route. All small roads through a number of small villages. When I arrived at the dam the water was really low but it was still a big lake. The Sacramento river originates from this lake. From Sacramento you can even take an old steam boat to go to San Francisco, this however takes about a day. When I arrived at the lake Folsum you could see the mountains in the distance as the weather was really good. Seeing this I drove up again to lake Tahoe to see it with good weather also. I drove the other way around now. The lake was looking smaller than I thought but now I could look from one end to the other end. I did not have to use my snow chains luckily although some people still used them. Maybe as I had snow tires it was not necessary. They check at all entry roads into the mountains. Almost al snow was gone and they really worked hard on the roads to get them clean over one night. Tonight they are expecting some snow again. Tomorrow it will be the last day here so I think I will go to Dave again. From there it's only about 25 minutes to the airport. I also did my laundry here so if all goes well I can skip doing a laundry in Fiji.
22 Dec
Today I went downtown Sacramento. First I visited the rail road museum which was huge as they had to store some big trains in the museum. They had about 20 locs in there and some cars that are quite famous here in the USA. On some cars there was some personal to explain how it was done in the old days and to tell some stories about the rail road in it's early days. Here in the states all freight trains have more priority than the trains that carry people. After the museum which was cool I went down to the library to check some mail. I also tried to get into some high buildings here but that was not possible so that was a pity as it would be great to see Sacramento from those buildings. Also walked around in old Sacramento that really is a touristic place. In the afternoon I drove up to the Sierra Nevada mountains and just cruised around and I found two big lakes where they had build power plants in. While driving there I came again in Napa valley which is one of the wine area in California. So drove around the area and saw some great wineries. I did not try them out but just watched the scenery. As it was getting late I drove up back to Dave's place to get ready for the trip to Fiji tomorrow. The drive from Napa to Dave was full of suprises and great sceneries. Checked the flights at night and it seems we have a green light. So off to Fiji now.
23 Dec
Last day of my USA stay. Today I have to fly out. First I had to take a flight to Los Angeles. From there to Fiji (Nadi). Sacramento went all ok but some problems started in Los Angeles. First the girl at the desk thought I had no ticket to Fiji and it took her a while before she found it ?! After that her printer died so she was totally confused. After that the connecting flight to Fiji was delayed for about one hour so I had to kill quite some time on the airport there (6 hours). After we left again we ran into problems as there was a cyclone in the Fiji Islands so we needed to fly first to Honolulu to get some more fuel as the pilot was not certain he could make it with what he had and to see if the weather cleared. We where already half way between Honolulu and Nadi when he made that decision so it took a bit of time. I left Sacramento at 05:00 and arrived at Nadi at 19:15 the fun part is I flew at Wednesday the 23'th and arrived at Nadi at the 25 of December (Xmas eve was skipped) his was due to the fact that I flew over the time zone border that's just in front of Fiji. They had some good food on this flight maybe it was for christmas. In total it took me about a day which was a pity. In Fiji I went from the airport Nadi to Sigatoka where I would stay the next days.
24 Dec
Skipped due to time zone.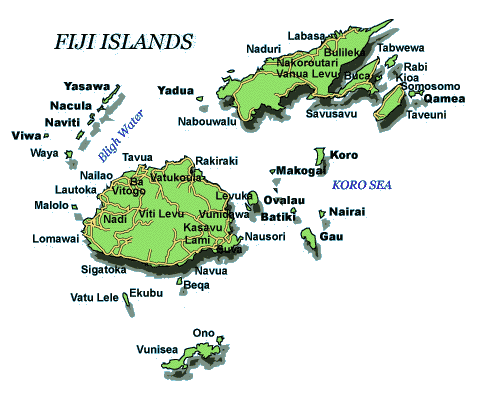 25 Dec
Ok after arriving here at 4 in the morning I was quite exhausted and tried to get some sleep. But as it had been raining here the air was very humid and the bungalow I was in was closed so very humid inside. At the time I arrived it was raining quite a bit. I need to get adjusted to these temperatures (it was 26 degrees Celsius at that time). I spoke to the driver of the bus that brought me here and they expect day temp of about 33 degrees. Oeps lets see how that feels here. The view from the cabin is great just overlooking the ocean and I am about 10 meters away from it. There are not much people here by the looks of it. Today I will need to do some shopping as I have nothing left. Tomorrow I think I will rent a car and drive around the Island. Today I will do nothing just hang out and relax a bit. It seems that this place is also an official Hostel International which I did not know as it was not mentioned on the site where I found it. As I will leave early on Monday I need to try to arrange a drive back to the airport which is about an hour away from here. The picture above are the location where I stayed. Just great.

Ps During the day the temperature was rising and getting very warm comming from winter in the US I had to get used to it.
26 Dec
Tried to rent a car but that's not easy on this Island. Avis needed a reservation so tried Budget and yes they had an old 4 wheel drive jeep so took that one for two days. I could also use it to get back to the airport as finding a drive with a bus would be difficult and a taxi too expensive. Luckily it had an air-conditioning on board so I would not sweat it out too much. I decided to drive all the way around the Island as people told me it is possible to do that in one day. I drove first to Suva which is the main town on this Island (Viti Levu) From there all the way around. I thought all roads would be paved but it seemed a big part was not so it was good to have the jeep. The east side of the Island is really the best. It has some impressing mountains and you will find villages in the most strange places. It took me all day to get round and I arrived at the hostel at 20:00. By the way as it was Christmas shops where closed yesterday so did some shopping for food in Suva. All other places around this island where quite small and even some places exist more often they are simply called town (No1) town (No2) etc quite funny but you loose your way easily. In the mountains there are some rivers you need to cross simply by driving through them. The rivers where not that big so it was not a problem. I found another road close to where I am staying that really seems to be good it's the Highland road but it should be driven carefully maybe I will give it a shot tomorrow. A lady that was working in this hostel told me about it. The weather today was ok it started raining in the morning and while I drove into the mountains I had some rain but it was not that sunny as yesterday so for me not too bad. At night it started to rain really heavily now I know why it's called the rain season (Hurricane season here)
27 Dec
Ok I am going for it so I packed some food and lots of water and rode of into the valley road. This leads into the highland road. I knew the first part was paved but it seems paved means only in the village so it took me quite some time to reach the Highland road. And eh yep one needs a four wheel drive. It was quite slippery and sometimes you would drive with two steep ravines next to you and sometimes that small that you could hardly step out of the car on either side whiteout falling into a deep valley. Also some roads, or should I say path's, where so steep that I doubted the first time if the car could make it but in 4 wheel drive mode and low gear it went ok. By the way it was and older car where you had to adjust the knobs on the front wheel weird. Some roads later where even worse but I was getting used to it now. On the road I stopped a few times and listening in the area was funny as you heard some really strange noises. Some hissing that was sometimes so loud it could be heard while driving. The sights where magnificent and there where hardly any people. All people you would see along the road waved at you and most people are very friendly here. The distance was about 150 Km but it took me about 5 hours to get back into the civilized world (Nadi) cool now I can check out the airport so I will not loose too much time tomorrow when I have to be there at 06:00 in the morning when it will be dark here. The best part of the whole track was when you where driving out of the highlands into Nadi area. It was really indescribable what it looked like. Tried to get some pictures but I wonder if they will even show 10 % of the beauty of this area. During the ride up I had to cross some rivers but these where a bit different than the day before. With one I had to risk it so tried it first a few meters and than drove all the way through it. And I made it. Although water was almost coming into the jeep. No rain today but also not much sun it was clouded during the whole day with some sunny spots during the day. Nice to get some pictures. But there where no sunsets at all which was quite a pity as they seemed to be great as I was told. Ok tonight I have to pack a bit as I will be of at 04:00 to Nadi to get my plane to Auckland. So bye bye Fiji.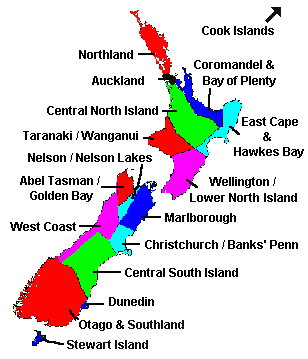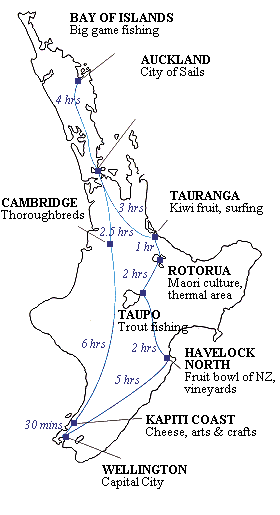 28 Dec
It was very humid this night and no rain so the temperatures did not go down. So not easy to sleep 'luckily' I had to rise at 4:00 to get my plain and return the car. So at 4:00 I was on my way. While driving it started to rain heavily so it was good to have a car. At the airport it went all pretty smoothly for a change. Almost as scheduled we left Fiji. So new Zealand here I come. New Zealand was a nice change. Temperatures where much more to my liking and it is good to have some more friendly shops to get some things. The car reservation did not get through so they had the make a new one but that was not a problem. Also it is easy to change cars if you go from the North to the south Island. I am not sure when I will go so left it a bit open between 1 and 2 of January. So on my way to Auckland. First drove a bit around town and around the area to get an idea on where I was. Then I had to pick a place to stay so I went up to the hostel in Parnel street. It's a bit out of town but a nice and quiet hostel. Nice to get a good shower as the Fiji was just bore water. Also arranged already a booking for the night of the 12 when I will have to fly of to Perth so that at least I will be having a place to stay as they expect it to get busy around the second week in January. From the hostel I walked into town to get some stuff. Auckland is build on some hills and they even have a Lombard street (in miniature) most shops seems to be closed on Monday here so just walked through the center and got some email reading done. Also checked out some things to do for tomorrow. In the evening walked back to the hostel and met a nice Dutch girl and chatted all evening. Tomorrow we plan to go the the Sky tower (scenic overview) and to Kelly Tarltons place which seems to be a kind of underwater world.
29 Dec
Arranged another night here and in the morning planed a few things I want to see at least. Looked at the map a bit to plan the duration's a bit of the drives I want to make in the North and South Island. Here there is really a lot of info to be found I was amazed on the number of folders and things to do. I have never seen a country until now what was so organized in this way for travelers. Together with Anniek I went up the Sky tower that gave a perfect view of the city and it was good weather so the view was great. In the afternoon, after we lunched back in the hostel, we went to Kelly's Waltron's under water world were they have a lot of penguin's. As the under water world was a bit disappointing we drove away into the Auckland suburbs and viewed a few places. Some houses were pretty amazing. It started to get quite warm and I should buy myself a sunblock mucho to avoid getting burned. In the evening tried making reservation for Taupo but that was a bit hard as they did not want to have New Zealand people and I needed to prove I was from Europe so the girl here in the hostel had to call them also to state I was from the Netherlands. Anniek made a dinner for us and that was nice after all the quick ones I made myself... It seems in Taupo there is a lot going on so lets find out and see how it works out there. I booked 3 nights 30 31 and the 1 of Jan. I also have to make arrangements to get the car swapped and to book the ferry. Also I need to book the drive back to Auckland. Maybe even rearrange my flights also when New Zealand is even nicer than I thought.
30 Dec
Ok drove up to Waitomo caves, via Hamilton, as it seems they have some nice caves with glow worms. I drove up via the highway and was quite quickly at the caves. It seems they have 2 caves so I did both of them. To be honest the 2 caves where both great as the first one (a smaller one) had some great formations. The second one was only famous for it's glow worms. Also in the second cave you would be going out with a boot in a very dark cave with all the glow worms on the ceiling. It was really a weird sight that in the dark so many light was shining of the roof of the cave. It was a nice ride and after 2 hours I came out of the caves. The weather was quite warm again so I thought lets drive up to the ocean. The caves where close to it so it should be easy to find. Hm think again. I lost my way and found some great scenery close to the ocean. I landed on a non paved road and the dust was really not good as it was very fine. Finally after some very scenic drives I landed back on the highway (that's what they called a paved road here) and drove of to Turangi. From Turangi you could see the lake from a great height and this looked awesome in the sunlight. One mountain even had snow on it's tops. From Turangi I drove up to Taupo. Once here I could find the hostel quickly. The girl in the hostel was very helpfully and arranged my sky dive for tomorrow at 11:00. Here in the hostel I met an English guy Andy. He went into town this evening with some others and I joined them. We ended up with two girls from New York in a pizzeria and after that we went to a club/bar called Holy Cow this was a nice bar and we stayed here all evening (morning!). They had a very cool song from a band called Reef 'Place your hand' you need Real Audio to play it. It was a good night.
31 Dec
Ok great day today for the Skydive. At 11:00 they picked me up from the hostel and we drove to the airport of Taupo. Last night I was thinking about it like what am I going to do now but now it was all ok. Once there we had to sign our lives away. After about 1.5 hours I was called for my jump. I choose the highest jump 12000 feet (45 seconds free fall and 4.7 minutes on the chute) it would be a tandem jump with some one else attached to you. It was from a small plane with 5 others. We started our flight and it would take about 20 minutes to reach our height. On the ground we had some instructions and in the air we had some again. We where even allowed to make photos on our way down (when the chute opened) I was very calm when we where jumping but once out of the plane you really get a kick. From this height breathing was a bit of a problem due to the 200 K per hours fall and the long free fall. But I felt great. One the chute opened all became very quiet as during the free fall there is lots of noise due to the air streaming along your self. We landed right on the middle of the landing spot could not be better. Ok this was a great experience maybe I will do this again on the South Island. After some eating and drinking on the airport I drove back and I was waiting for people to arrive at the hostel to go out again for the New Years eve party. While waiting I met a girl (Ellen) she was Dutch and we chatted a bit. Later one an other Dutch girl joined us and we had our dinner together. We decided all together to go out so we went into Taupo to have a good time. We went again to the Holy Cow and enjoyed ourselfes. It was a nice day and a great evening.
1 Jan
This morning I called a few hostels to make reservations. One in Picton and one in Christchurch and one in Lake Tekapo. I will be doing the flight over Mount Cook and see the glacier from the air. So lets try to book it al. In the morning I joined the Dutch girls again and they wanted to join me as I would be driving up to the Huka Falls and the Dam and the Hidden Valley here where they have some geysers and some mud pools etc etc. So after getting the laundry done we drove of. The waterfalls where not that big but quite nice. From here we drove of to the dam but we missed it so we agreed to go to the hidden valley first and after that if we had time to go to the Dam. The hidden valley was a bit further away so it took a bit longer to get there (also we did not know exactly where to drive to) but finally we found it and it was a nice area. The girls had seen the mud pools in Rotorua and said these where much better. As I wanted to maybe see them I skipped them for now. The walk around the falls was quite a longer one and I was really hot. But it was a good walk. There was also a lake at the end of the hot pools so we wanted to go for a canoe drive but as you would be only allowed to canoe for 400 meter from this point we decided to drive of to the Dam. So there we went again. At the Dam we saw that it would be opened at 16:00 hours so we walked a bit around and saw people swimming in a great looking area. (just down the Dam) we wanted to go there and do some swimming of ourselfes but first we want to see the Dam opening. So we waited a bit and that was really good as seeing the river rise was a great sight. It took about 15 minutes to rise in total and a small easy river turned into a wild one within minutes. Later we went down to swim a bit there. This was really a dream sight to swim and we stayed there a while. After the swim we went to town again to have some dinner. This was a nice day and it's almost a pity we had to go again in all directions. Ok tomorrow it's on to Picton.
2 Jan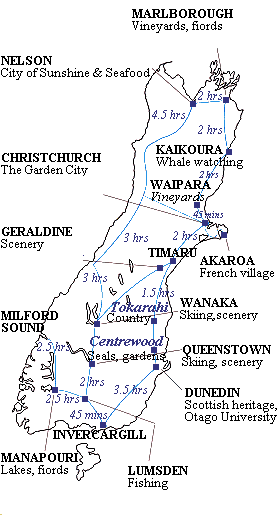 Started my drive to Picton. But first went to see if we could send our digital photo to people to make sure it would not get corrupted. So Ellen and I tried to find a good email place in Taupo which is not easy as the first one did not work and still we where charged and the second was better but still some problems arise. I was able to send it Ellen gave up and we split there. I started to drive on to Napier. The weather was pretty warm again and the road to Napier was not really exciting. From Napier I headed to Hastings. Napier was a nice town and maybe on my way back if I have time I will visit it again. Hastings was a sleeping town and not much to see there. From Hastings it was via Palmerston North and Levin to Wellington. I thought it would go quicker but I made an error in this. I arrived at the ferry just in time I left the car there and booked my trip and I could go straight on board. 5 minutes later we were heading to Picton. The boat ride was nice and took about 2.5 hours (this was the slow one) it goes quickly out to the ocean and enters the south Island in about an hour than it starts to get nice. It looks like sailing through he fjords in Norway I guess. really a beautiful area. In Picton I had to get the new car but that went fast. From there on my way to the Hostel in Picton. The hostel here is run by a nice lady and she put me in a room with another Dutch guy and 2 girls (one German the other one a kiwi) I invited the German girl out for a drink so we went to the 'Barn' a cafe according to the hostel lady that was quite good. In the evening we walked a bit around town. We forgot about the time and pretty early in the morning we came back. For me no problem but she had to go on a boat trip to do some walking in the harbor area. I hope she was not to tired for the walk. On my way back I will stay at least one other night in Picton.
3 Jan
Ok first lets get some food for breakfast. The shops in Picton where open (Sunday) so that was good. After a struggle with a teller machine I could get some money. From here it was on to Christchurch. I took the scenic route along the coast to Havelock. Just before Havelock I did some walking in the mountains as the scenery was so good I had to do it. There was a nice lookout and some pictures should be very nice. From there it was via Blenheim along the coast to Christchurch. This was a road like the one in the States (Highway one) only here it was just the one (1) In Christchurch I could find the hostel quickly and I settled in there. Christchurch did not appeal to me so I looked around what to do. I saw a nice area around the bay in Akaroa. In the evening just watch some BBC to see what was going on every where. Also found a good email place here where it was cheap and good to do some mailing. After that walked a bit around town to see what it looks like. I found out that tomorrow there will be a public holiday as new year was in the weekend and this allows Kiwis to take the Monday of. Good deal. But this means Quantas will not be open to do the confirmation. I found Quantas so on Tuesday I can check there.
4 Jan
Today it's Akaroa day. Akaroa is a place where many people go to in the summer. It is in the bay and it's really a great area. The first part is a bit boring (through the suburbs of Christchurch) but after that it started to be a nice ride. Once I was on top of the hills you could see the bay and it looked almost like some bays in California. Now I understood why this area was so well known. At the end of the bay the town Akaroa is to be found here the English sailed in a long time ago and 3 days after they where here the French arrived. As they where a bit pissed of as they where not the first ones to arrive a number of people from the French boat stayed and see there the town is like a French one. Many French names etc. It's really a touristic town with a lot of water recreation. I walked up on the ramp and saw a nice goldsmith place. So out of interest I walked in and there was a nice girl chatting to some customers. She had a known accent and after that I checked and yes she was Dutch. It seemed even that she was in Schoonhoven at the same time I was there also. I could not remember her but we had a nice chat. As I was booked for a boat trip I had to run but it was funny. She mentioned that here was a real shortage of goldsmiths etc so she told me to keep a look here if I was interested. The boat trip took 2 hours and was very good. They showed us the dolphins as promised but the penguins where gone only one was to be seen. But never the less it was a good ride. As this was a boat trip and I took care of sunblock and a hat I was still burned in my neck ! Later on the afternoon I went to the Gondola to see Christchurch from the top. It was a bit foggy so it was not that good as I though. As I was pretty tired I went back for an early night.
5 Jan
Ok lets check Quantas. They opened at 9 o'clock and I was there just when the doors opened. I wanted to reconfirm and make some rebooking. It seemed it was quite full so the rebooking was to be on the 24 of Jan. Flying of from Auckland at 06:45 and arriving in Adam at 06:00. After that it was on to Lake Tekapo. Again I found some scenic routes and drove up to the lake after I went in some other roads that where mentioned to be good. Some of them where not paved so it was a bit dusty there. Once in Tekapo I found a bit of a small town with not much live. But the hostel was located at the lake which had a very nice color so now I knew why people where always talking about it. I booked a flight over Mt Cook and the lakes at 16:00 so I would not have to sit and see what to do. This flight was amazing and the pilot really showed us a lot of places I took many pictures and I hope they will come out good. From the air you really could see all the different colors of the lakes due to the dirt from the glacier. As I had a bit of a cold I had some problems while landing my ears where popping up and it seems if you have a cold it's not a good idea to fly but I was there already and was really happy to have seen it. Tomorrow I will drive up to Mt Cook as I seen the place from the air I knew it was good not to stay there in the hostel. At night we chatted a bit with a German guy and a Japanese guy while chatting he brought up a trip in the Milford's so I booked it straight away as it seems to be an interesting one. When I called there was only one bunk available and I booked it. It was on the night of the 9'th which was good as the night of the 7,8 I will be in Queenstown doing some rafting or jet boating. I booked myself on a sky watching trip but due to the clouds this was canceled maybe I will do it tomorrow.
6 Jan
Today I drove up to Mount Cook which was about an hours drive once there I did some walking to see some lakes and glacier. This area is not really interesting and I would not advice people to go here unless they like walking some tracks as they have many here. It's really a skiing resort and as there was not much snow it was a very quiet place On my way back I drove up to see the other lakes around here. It is funny as they also have rivers here that are much higher than the rest of the land. This is due to a number of water power plants in this area. It was Lake Ohau and lake Pukaki. Both of them where in a different color and it was a very scenic sight so again quite a few pictures here. Also I visited some towns along the way so tomorrow I can drive on to Queenstown without having to skip those places. In the afternoon I sat down to work on the reports as I had been skipping them for a long period so before I forget about it I need to sit down. Also I need to do some postcards again as I have not taking the time for it. And as I had still this cold it would be good to sit down and relax a bit and this is the right place to do it. Tonight I hope the sunset is as good as yesterday but I had no camera with me so tonight I should take it with me if I go for a walk. Hm need to do some laundry also how good would life be if someone invented self cleaning clothes.
7 Jan
On to Queenstown. While driving out to Queenstown it started to rain while driving into the mountains. Finally a free car wash which was needed as it looked like a mess from driving on the non paved roads. The drive to Queenstown took me through some canyons and these where very nice to drive through. But due to the rain I am afraid the pictures are not that good. Just before the town there was a big fast streaming river with some nice water differences and some people where trying to canoe in it. When I arrived in Queenstown I was surprised as the city is really a nice one it's build against a mountain and on the other side you have the big lake. This lake seems to be very deep up to a few 100 meters !. When I booked myself in the hostel the weather started to clear and before I knew it it was nice and warm again. While settling in I found out I forgot a bag of food in Lake Tekapo so I need to do some shopping again. As it was already a bit later I could not do an activity straight away so I went up in the gondola. The sight from there was amazing, much better than the one in Christchurch so I stayed up quite a long time talking to some people and seeing the sun go down. Tomorrow I will set myself into a jet boat and go through the Dart river which is a good ride so I am told. I tried also to get confirmation on the flight back home but some problems had arisen. The girl who had helped me did not to have made the right booking. Hm Quantas needed to wait for her to get back as she would be in tomorrow. In the hostel I met 2 UK guys and we went into town in the evening to get some email done and walk a bit around. There was a nice street performer doing an act which was nice and many people stopped and enjoyed her show.
8 Jan
When I woke up it seems the weather has cleared very well so I am going to do the Dart River jet boat tour. This tour takes about 5 hours so lets see what to do after. The Dart river is a bit further away from Queenstown and a part of the tour was by bus. Which was good as you meet some people that do all the same trip. The ride up to the river was with some comments of the driver and was nice. Once in Glenochy we could see the mountains ahead and I was already sure I would like this trip on the river. We went up with two jet boats in each boat 10 people. The drive up the river was a scenic drive again with some stops an explanations of what we saw. The river was pretty wild as it has rained the day before which was good as it made the drive exciting. The way down was the fast way where the boat made many 360 degrees turns and some wild movements. This was what I expected and I really enjoyed myself. Wen I came back at the hostel it was already about 14:00 and not much to be done as most trips take quite a bit of time so I walked around in town. But as there are some short jet boat rides I took another of 1 hour in the harbor and the river close to the town. Made reservations in Invercargill and Dunedin for the hostel and tried to find out what has happened to my flight home. Ok it seems it was clear now and the date was set on the 24'e as all other dates where booked full. This one also so I guess I will be on the waiting list. At night again did some emailing in a very cosy place which was cheap also and even better above a food court. This night we had a nice sunset so lets see if we can capture this one also. Tomorrow it's of to Milford.
9 Jan
The trip to Milford would take about 5 hours I was told but I needed to get some things done so after the shops opened and I could call Hertz for the new booking (Picton Wellington) I was on my way. The route was a nice one again (yep most of them are here) and it took me along lake Wakatipu, Kingston, Five rivers, Mossbum, Te Anau along lake Te Anau. When I arrived in the Milford park I understood why the trip would take longer (to Te Anau was only 2.5 hours) once in the park you get from one amazing place to another and many pictures are taken. All places make such a deep impression you just need to get it on film. Just before Milford Sound there is a very nice steep way down and on my way back I should try to get it on film. The weather had cleared again and it was again pretty warm about 26 degrees. Milford Sound is just a fjord with some hotels and not much is there except for many boats. One boat was the YHA one and it was called the Wanderer. Just before I left Queenstown I spoke to a girl on a motor-bike and when I arrived in Milford she was also just arriving. She was not able to get on the same boat as I but she managed to get another one. When we sailed out we went through the fjord and this was the best trip on a boat I have ever seen. All the way through there was a lot of explanation and it was very scenic. They showed us the seals the dolphins and many waterfalls. In the evening I went out kayaking and others went swimming or fishing. I met some people on the boat and we talked quite a bit. In the evening we where visited by some seals and we stayed up pretty late to watch the stars.
10 Jan
Sleeping on the boat went well not much wind so it was calm. We sailed back to the harbor and at around 10 I drove up to Invercargill. During our way back with the boat we saw the dolphins again and we kept floating around them. They where very cheerful and happy just jumping around. I guess many films where shot full that time. This drive to Invercargill was another one as the land shape changed a lot from mountains with lakes to quite a flat country side along the ocean. During my way out of the rain forest I ran out of the battery in the camera and missed some sites I wanted to get on picture. Like the mirror lakes and some others. Maybe I can get them from people I met in the Netherlands when I am back. The trip out of the rain forest was great and I liked staying there. I was able to get some sites on pictures that was not possible during my way up. Invercargill was a bit quiet as it was Sunday and all streets where deserted so I drove up to Bluff. Same here but at least they had some nice outlooks and I could see Steward Island from here. As it was pretty late yesterday night I will try to get some sleep here tonight. After this it's on to Dunedin and I called Bart but it seemed he had moved to Auckland so maybe I will see him there when I will travel back In the evening I was called in the hostel and I was wondering who it was but it was the girl on the motorbike she remembered where I would be going and I left a card on her bike to call me sometime. I was quite surprised and amused by her call. She would send me an email so I would be able to contact her again. This evening I need to update my logs again as I did not do them for several days. In the evening played some dominos with some guys at the hostel.
11 Jan
Drove up to Dunedin to stay there for two days. The drive to there goes over an area, if you select the scenic one, that's called the Caitlins. This is a very nice drive with many stops (if you want) I had a map of all the highlights and stopped for a couple of sights that might be interesting. Some waterfalls and some seal colonies. Also some caves. The caves where great and can only be visited during the low tides. Luckily it was almost at it's lowest so I could almost without getting wet feet walk up to there. I kept on running into some people I met earlier and that was quiet funny as I skipped some events and they also skipped some. The drive to all those stops are all on gravel roads so it took some while to get there. As I did not ant to arrive too late in Dunedin I skipped the last part of the stop's as those where more shop like areas (too touristic) I kept on driving on the southern touristic route which was very well indicated this you can not say about the normal cities. Just before Dunedin I came onto a road with great views of some nice places so here goes some film again. Dunedin is great if you drive up from a height. The city is build against some hills and that gives some nice areas in the city. They seem to have the steepest road in the world but I could not find it that easy. As it was already getting a bit later I drove back to the hostel which was a nice looking one. It was an old Scottish looking mansion. Tomorrow I will visit the castle and in the afternoon I will get onto the scenic train trip into the gorges.
12 Jan
Drove up to the castle but I lost my way as it was badly indicated but after a nice tour trough the town I found a sign and was on the way to the caste. his castle was build by an ex bank director in the last century and was bought not long ago by some people in New Zealand that opened it for the public. It is a small but cosy castle with great looking gardens. It had been sold quite some times and once it has been a sheep's hut ! Back to the hostel to get some lunch and get ready for the train trip. On the way back to Dunedin I took the road along the bay and on the other side you could see a road winding down from the hills like Lombard street. Thats not the first time I saw that ! The weather was clouded, walking to the station, and looking a bit grim. The train station was a very old one but it was just being restored so it was fully under construction. The train was a private one and maintained by some freaks. They bought the old railroad and the trains and are running it as a touristic feature. There where some Dutch people on the train. The train left slowly and stopped a few times. It went through steep canyons and winding mountains. It was a great trip but after we got into the warm gorge I was getting some hey fever. Weird as I had not had it in a long time. When we headed back it started to rain and after we came back at the station the hey fever was gone again. In the evening I met some Japanese guys that where traveling with their guitars so we jammed a bit away in the garden and the lady of the hostel did not mind us playing all evening. In the mean time it stayed raining. Again some laundry done to avoid that during the glacier trip which will start tomorrow.
13 Jan
Today it's a long drive to Franz Josef. This will take me also to Wanaka and some other places I wanted to see. It was from hilly terrain to the mountains again. In the beginning it was a bit cloudy but later it was fine again. The drive would take me through the main fruit places of New Zealand. The area was great and some views amazing. In this area there where quite some lakes and power plant's using dams. I came across the same crossing as I already saw earlier at Cromwell. In Wanaka there is an old airport with some great planes. I checked the price but $2000 for one 20 minutes flight is a bit too much. There was also some tandem skydives here but I drove on to Wanaka. This was a nice town and the lake looked great I stayed here for lunch and walked around a bit. From here it was back along the rain forest to Fox glacier. It was again amazing as the rain forest here are great with many great views. Luckily I bought 2 rolls of film that I needed a lot as I shot many pictures. The road was very steep at any places and winding in such a way they some times you needed to drive about 10 K an hour. The humidity raised a lot and I sometimes thought I was driving in Fiji again. Also the same noises came back. During the ride I walked on some of the shorter tracks from 15 min up to 1 hour as I needed to get in Franz Josef. Finally I arrived and checked in the hostel. A booked myself straight onto a heli tour into the glacier. Again a lot of Dutch people here and later in the evening I did a bush walk on a closed walk to see the glow worms the path up to there was slippery and the other guy had a torch that we really needed. On the way back (at 23:00) it was pretty dark and we saw some animals from close by. Some opossum's walked up to us and we could almost touch them. The glow worm's looked great as there where no other people around we took all the time. On the way back we saw some people but they did not go as far as we did. We even tried to explain to someone to go where we where but later we found out he was a guide that did not wanted to go to this part of the track that was officially closed.
14 Jan
Hm I woke up and it rained heavily ! There goes my heli trip. It could clear but after a check with the people I found it was not going to clear up today. Maybe tomorrow. I needed to get to Picton on the 16'e so I decided to drive up north and to skip this trip. Pity but that's live. I booked myself into a hostel in Westport, the hostel in Franz Josef did not refund the next night I already booked. During the whole drive it was cloudy and raining. The route looked great and maybe tomorrow I will drive back to have a look but first lets see what to do in Westport. Along this route there are some nice places I should visit them also some day. Many of the small rivers where now very big and water came out of a lot of places along the roads. This caused the roads to become dangerous. I arrived in Westport at around 16:00 and found they have some activities here. I think I will book myself on some cave rafting. It takes a few hours so after that I need to get to Nelson, the next and last hostel on the South Island, quickly. From there it's swapping the car and on the the north Island. I need to book either New Plymouth or Wanganui it seems the weather is going to be a bit more darker on the North Island. Lets see what happens.
15 Jan
Ok booked myself into the cave rafting but it seemed that, due to the rains, today people that where supposed to go where booked this day also. But luckily they called that there was space available. They picked me up at 08:00 and it was not raining today. That's cool although it was looking very clouded and it could start raining any minute. But as we are going to be inside the caves it does mot matter much. Plus it's water anyway so who cares. We needed to get into wet suites with helmets etc etc. With this equipment and an inner tube we needed to walk a bit about 10 minutes and walk up on 108 stairs. In this humidity it was really heavy. But we made it and it was all worth it. The caves where great and the rafting out even better. We stayed in the caves for about 2.5 hours and rafting through the glowworm caves was much better than being in the Waicoma's caves. Maybe I need to go back there and do the black water rafting here also. Lets see if it stays raining it's a good alternative. In the afternoon I will need to drive up to Nelson to get into the hostel there. Someone told me it was a boring drive but I found it quite a pleasant one. It was not really clear but still pretty cool. The mountains where not that high anymore but still very impressive. When I arrived in Nelson it was about 19:00 and as I was still wearing my clothes that I used after the rafting I will need to do some laundry here to make sure during my cross over all was clean so I could stack it into the backpack. At night walked a bit around Nelson and it seemed a nice place. Next time I have to stay longer here and visit the Abel Tasman park to do some tours and go sea kayaking here.
16 Jan
Ok cross to the North Island today. The weather was looking ok and I drove away pretty early so I might be able to get the ferry, the eagle, at 10:45 luckily I was able to make it just in time to book in and to get rid of the car. The drive was partly over a road I already knew on the way down south the first time. This ferry is much faster and it took only 1.5 hours now to get to Wellington. On the boat someone told me this ferry is only used during summer time here and than goes to Belgium to be used there ? It was sailing under a Singapore flag so lets see. The sea was calm and the ride great. This boat is really powerful and has many horse powers. The propulsion pushed the water way up high up to a few meters at the back of the ship really looking amazing. Arriving in Wellington went fine the car was ready and I drove of into Wellington but I did not like the town so started to drive up to Wanganui. Here I will stay the night before going to Taupo again. In Wanganui I met some Dutch people and we chatted a bit during the evening. There was nothing to do in this town so the next day I think I will visit the tower and drive off. The owner of this hostel was a nice guy and we chatted also for quite a bit in the afternoon. But during the night it started to thunder and before we knew it it was raining like hell there. It even woke me up. This hostel was very quiet and I had a room for my self here which was pretty nice though there was an older guy that was making a lot of noise.
17 Jan
Rain rain rain this was not a good start. So I slept a bit longer and at 09:00 I drove of after a good breakfast. The road was blocked on a few places as rocks came down during the rains. Also on quite a lot of places there where washout's. These are parts where the road was washed away due to the rain in the mountains. So this is not a road where you want to drive fast. The further I came up north the better the weather was and it stopped raining after about an hour. As I heard some things about Turangi I wanted to see the town also so I drove up scenic road. When I arrived in Turangi I checked the info center and found a nice rafting thing to do that would start at 14:00 so booked me into that one. Before I went there I checked the email at the hostel in Turangi as maybe I would meet someone that would also do some rafting in this area. But no reply from her so on my way to the rafting place. It was a nice trip and we arrived back at around 17:00 it was 2.5 hours on the water and I was out of the raft a few times. The ride was over 14 Km and we dropped down about 250 meters. It was a level 3 raft. The scenic where great and due to the fact that there was a lot of rain the days before the river really was looking worn out. It seemed the river was about 5 times as high as it was now during the rains. You could clearly see the damages it does. Some of the falls I made where due to the fast streaming water. At the end of the trip we al had something to eat and at 18:00 I drove up to Taupo where I went to the same hostel again that I had visited at the 31 of December. The lady recognized me and I found out that there was an even better raft here in this area. And it was only being performed on Sundays. I have one Sunday left here in NZ so maybe I will book me into this one depending how I will like it at the coast as I want to see Coromandel and Bay of Islands also. A few minutes later it started to rain heavily so I went into town to do some emailing. After that it was updating the reports again. Tomorrow I will go to Rotorua and see what to do there as it's only a short drive to there. If the weather clears before I leave I will have to get some pictures and maybe even go upon a Vulcan here but when it's raining or very clouded I was advised not to go up.
18 Jan
Drove up to Rotorua. This was only a short drive but as I did already a part earlier and I missed a few sites it was good to be there again. I knew I wanted to visit the power plant which was fully driven by earth warmth and amazing to see all the piping in this area. From an outlook post I took some pictures and drove of to a park where there where a lot of geysers and mud pools. It was a bit like the hidden valley I visited earlier but this one is bigger and there where quite a few tourist here, But still it was a nice place. After walking some tracks here I drove on to Rotorua to check into the hostel. The whole town smells much like sulfur due to the vulcanic activities in this area. There are many warm water spa's and there are many other places that are nice but not open for the tourists. They get only to see about 5 % of all sites. In the hostel I met some one I knew from Queenstown. He was going to Fiji later and we spoke again about Fiji quite a bit. Later on I drove all around Lake Rotorua which was bigger than I thought. Even lost my way there. and At night I met some people and we went into town to a bar. One guy was visiting this country to accompany someone that could not travel by himself. It was a bit late when we came back but we had a lot of fun.
19 Jan
From Rotorua it was a longer trip today as I wanted to go to Coromandel. This is a bit further up north but as I took a very touristic route so it took me a bit. I drove up to the Burried Village that had a nice route with lakes on the way. Comming back from the Burried Village I drove to Whakatane and from there along the coast (bay of plenty) to Matata and Tauranga from there to Tames and to Coromandel. Coromandel was know for it's forest park and the drive through it was quite nice. Once in Coromandel I went straight to the hostel. The weather was very good. It was warm but with some clouds later in the evening. As the city it selve it not that big there was not much to do except if you like fishing. I heard about some sea kayaking so maybe I will do that tomorrow. In the evening I walked a bit into town and at night I met some people so we stayed in the hostel.
20 Jan
Hm way to warm today to do some canoeing so I went and took the route the lady of the hostel advised me to take. It's the touristic 309 route with some nice things along the way. Route 309 was a gravel route so it was again a very dusty day. Indeed it was a nice one especially the water theme park with a lot of home made machinery that run on water power. It was great to see it all work. During the whole trip I visited some places such as waterfalls and scenic outlook posts. As I was also still trying to meet someone else I drove up to Opoutre but again I missed the person as I had to drive up to Auckland to get my trip home fixed. The hostel in Opoutre was great and had a perfect look on the bay. When I will get back here next time I need to stay here at least a day. As I wanted to swim with the Dolphins I wanted to drive up to Paihia in the Bay of Islands. This was also a long trip due to some major traffic jams in Auckland and a lot of rain on my way up there.I drove up to Paihia on the east coast and when I will go back to Auckland I will take the west coast drive. I rang up from Auckland to see if there was still a bed and luckily there was. But it was 21:00 when I arrived there so got some shoping done and thats about it. I met a Dutch girl, Miriam, and we spend the evening together talking a long time untill about 1 in the morning.
21 Jan
Today I want to try to swim with the Dolphins so booked myself into a trip. It was not sure yet if swimming was possible as there where maybe some calfs with the Dolphins. As it rained again it did not look that good to be on the ocean but I needed to try it. The trip was in the afternoon and in the morning I walked through the town to do some sight seeing. In the afternoon I went to the boat and we took of. We met a big group of Dolphins but indeed no swimming allowed not due to the pressence of calf's. On board there was a girl that told us quite a bit about the life of dolphins and though it was a pity we where not allowed to swim it was great to see them so close. They where very playful almost as much as in the Milford. As it started to rain quite hard the rest of the trip was a bit of a waste as the whale watching part did not went through and the trip to the open ocean was also canceled but still it was a nice trip. At night I met the same people again as I met in Rotorua and some others so we went out all together to get some food and after that to a club as the girl that was also there wanted to dance. It was a fun evening and late in the morning we where back in the hostel. Tomorrow I will see what to do as the rain is not making trips easy.
22 Jan
Hm what fun it rains again. I wanted to do another boat trip with Miriam that I met earlier but after having a nice breakfast we decided it was not a good idea to do it so we spend the day in town with some eating and drinking. At night we went into town again with almost the same group. When we went back to the hostel if was still raining hard and as we where wet already we all went into the ocean to do some swimming. The water was very nice about 18 degrees so we stayed there a bit and after another group of people joined us we went back into to hostel.
23 Jan
Today I need to go back to Auckland as this will be my last day. All other people I met where also going to go to Auckland so we agreed to meet into town to go out a bit there also. I prommised to drive Miriam to the east coast as I was heading there any way. The weather was still bad and it rained again in Paihia. After doing some laundry she made us some breakfast and at noon we drove of. Up north there was a town called Kirikiri I wanted to see so we started to drive up there first but it was not really a great town so we drove of to Rawene where she wanted to stay. The trip there looked a bit boring as there was no real nice scenery but in the area of Rawene it started to change. When arriving in Rawene she was a bit scared as it looked it was a bit of a very quiet place. After having lunch in a restaurant with some very helpful people we sayed goodbye and I dropped her of on the ferry. I drove up back to Auckland. On the route I came through the Northland Park where they have some big trees so I did some walking around in the forest. The trees where really big and while I was driving further down south I came across some nice parts of the road where the trees where used as guidance for the road. The road was very winding and it took me a long time to get back into Auckland. I also stopped a few times to get some pictures along the way down. At 20:30 I arrived in Auckland and as we would meet at 21:00 I did to do some cleaning and drying as due to the humid weather quite a few clothes where still wet. So had to claim a dryer in the hostel. At 21:30 I met the others and we where all a bit exhausted of driving quite a bit today so we did not make it very late as I also had to drive of at 5:45 to the airport.
24 / 25 Jan

Today is a sad one as I needed to go back home. It was a long trip as there where some storms at Sydney so we had to divert to Brisbane first to fuel up and wait to see if Sydney was getting better. As I met a nice person on the flight we talked a bit so time went fast and after some delay we landed in Sydney where it had cleared. From here it was to Singapore and then to Amsterdam. In total the whole flying trip took me 34 hours including the waiting for the next flight. The flight was going over Russia which was new to me. When I arrived in A'dam it was quite cold and dark. At home I finished the reports as I had some problems with the mobile computer I took with me. And then I need to get some good sleep and a holiday to relax from this one.

Thats it for this trip but maybe soon again ?
And yes Sydney was the next one.


Not all of my 350 pictures are here but this should give you an idea on what I have seen and the beauty of the locations I visited.
If there are links missing or something seems not to be ok please let me know at jeepee@gids.nl

---
Thumbnail links
-|-
-|-
---
Some great songs during traveling
Some music from the period I made this trip and turned on the volume of my car radio where ever I could receive something (as there are quite a few places where nothing is to be received) Next time I need some tapes or a CD player. The songs can be listened to best if you have a 56K connection to the internet. It could also be just clips. When listening to the Reef song put the volume up as the intro is great.

Jewel from the album Spirits Hands
Reef from the album Glow Hold your hand on..
Alison Morissette Thank you
Abba's Dancing Queen. (for Paula)


---
Total driven distance

New Zealand                      Fiji                          USA

Start Auckland   35483           Start            32160        Start Sacramento 26000
End Wellington   36787           End              32890        End Sacramento   28684

Start Picton     53891           __________________________    Start Sacramento 17042
End Picton       58187           Total Fiji       730 KM       End Sacramento   17834
                                                               __________________________
Start Wellington 37112                                         Total USA miles  3476 
End Auckland	 39265                                                          5594 KM
__________________________
Total NZ         7753 KM


Total driven :   14077 KM



For more information about distances in New Zealand you can click here but a small warning is in place as this applet does a lot of calculations you need a strong machine to run it so if your machine slows down drastically it could mean it will be caused by this applet. But if all goes well just click on a city and drag it to another city this will show a line and if the mouse button is released the calculated distance will be shown next to the map.
Distance in New Zealand
---
Some nice sites I used before I started of :
---
---
Sign my Guestbook | View Guestbook


© GIDS 1999
.