Sydney is well known for two constructions one is the Sydney Opera house and the other one is the Sydney Harbour Bridge. Here is some info about the last one and some pictures from myself climbing the bridge. Its a nice thing to do but I have to admit the prices for getting the pictures is a bit of a rip off but the climb is awesome..... More info over the bridge just follow this link and read some info gathered from the net.
More pictures and a story about a trip I made from Amsterdam to the USA, Fiji and to New Zealand and back home to Holland. Two months, December 98 / January 99, and a great time traveling around in these places.
After spending quite a while, in total 12 weeks, in Sydney for my work I spend some time in the area around and in Sydney. A collection of the pictures are available in thumbnail form. Just click HERE and select the pics you want to enlargen. A small storry will follow soon to explain some of the sites and where to find them. Sydney is a great place to be and there is so much to do and see that it would take a long time to be able to do and see it all. Driving through Sydney is from one great view to another one. One could say Sydney is the city of great views. So hire a car and enjoy it !
| | |
| --- | --- |
| | Sydney Harbour Bridge spans Port Jackson, linking North and South Sydney. The single-steel arch bridge was built in 1932 at a cost of $20 million, which took 56 years for the city to pay off. |
| | |
| --- | --- |
| After a long climb of about 30 minutes we reaches the top. As it was a warm day (around 36) it took a bit longer. | |
| | |
| --- | --- |
| | This is a view you should not mis so if you are around do the bridgeclimb ! |
| | |
| --- | --- |
| The skyline of Sydney with hidden on the background the Sydney tower from where you get a great view over the city. | |
| | |
| --- | --- |
| | Hm much steel to be found here and you should take care not to bump into anything ! |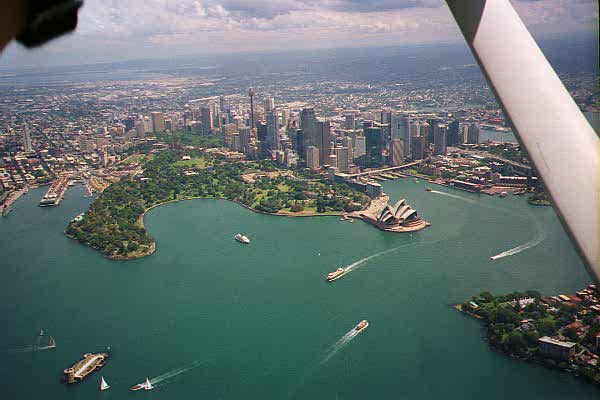 As you probarbly know during the millennium 1999-2000 there was a huge fireworks in the Sydney Harbour. This fireworks was an amazing site. Unfortunatly I was not able to see it although I saw the great fireworks during Australia day. An image of the Sydney millennium fireworks is here its about 330Kb and sized 600*800 so nice to use as wallpaper.
If you want to see the Sydney Harbour Bridge in real time or the Opera House or if you want to see whats happening in the Rocks just visit this link that enables you to move a web cam from the ANA hotel (if you visit Sydney make sure you go in there even the elevator ride is fun) which gives a great view over the Harbour. Justy click here and enjoy !

Another nice background with a map of Australia can be downloaded here its about 170 Kb and sized for 1023*768. If you want to use it you can either convert it to a BMP or with window users just right click and set as wallpaper.
Another background is the Sydney Harbour Bridge which can be resized and saved as BMP in windows to have a nice background. Get it here.